How to Lease or Buy a Top Performing Photocopier
Whether you work in a small office of under 10 people or a corporate office with hundreds of employees, choosing the right photocopier is imperative to daily operations. Aside from choosing the right brand and model, deciding between leasing or buying a copier can be just as important of a decision.
Photocopiers for business: The multifunction copier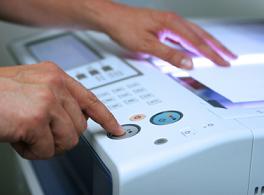 To meet the demands of the modern office, manufacturers have created business grade photocopiers, known as multifunction copiers, which can produce more copies per minute than their home-use counterparts. Almost all of the top copier manufacturers like Canon, Ricoh, Sharp, Konica Minolta, and Xerox provide multifunction copiers that offer similar features.
Taking a look at copier reviews can give a good introduction to what's out there for businesses. Photocopiers intended for business use can create two-sided copies, sort documents and piece together entire presentations. These machines can even store documents in memory for printing at a later time.
Most photocopiers have a glass scanning panel protected by a lid, which is where the copier scans the document to be duplicated. Some models even have built-in storage space below the mechanism, which holds reams of paper and spare ink or toner cartridges.
Additionally, a photocopier at the office can become part of the computer network, serving as a fax machine and printer for an entire department or team. These are rugged machines that can handle a larger workload and more demands than smaller units.
Should you lease or buy?
Deciding between leasing or buying a photocopier can mean choosing the level of service that's included, and choosing whether or not you can trade up to a newer model in a few years' time. You can read our guide to copier leasing for an idea of the process and what leasing generally entails. Or if you already know you'd like to lease or buy, get photocopier prices or lease rates (you can select this option on the form).
Compare Prices & Lease Rates on Office Copiers »