5 Ways Your Business Can Benefit from Digital Copier Cloud Storage
Cloud storage is the latest, most convenient method of data storage available, offering the opportunity to store large amounts of data off-site on third-party servers. Today, most savvy businesses have caught on to the cloud storage trend. Based on a recent Avere Systems and Gatepoint Research study, both private and public cloud usage is growing, 35% and 37% respectively.
How digital copier cloud storage supports better business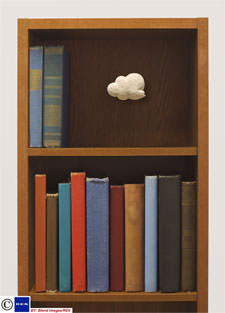 If your company has already spent an arm and a leg on your digital copier, software updates and upgrades can be pricey. Cloud digital copier storage can be advantageous since it bypasses the need for on-site storage in expensive hardware. Software services and upgrades are also available through public and private cloud access: either via the Internet in a public cloud or privately through a company's intranet structure.
Xerox was one of the first digital copier manufacturers that offered cloud-based storage with a direct connection to multifunction copy machines. Scanned or faxed documents on a digital copier can be uploaded automatically to the cloud. The same documents can be edited or downloaded from a remote location using a computer or smartphone. After Xerox broke ground in cloud-based digital photocopying, a number of big-name manufacturers have followed suit, including Canon, Ricoh, and Brother.
Your business can utilize a cloud-based digital copier in the following ways:
Print important contracts/documents remotely.
Edit documents on-the-go from home or a smartphone before printing.
Safely store sensitive internal documents.
Access more copier-friendly software applications in a secure cloud network.
Eliminate the need to wipe a copier's hard drive clean before reselling.
5 advantages of digital copier storage in the cloud
Cloud-based digital copier storage can improve basic functionality in the workplace. Instead of limiting document editing and printing to one location, documents that are scanned or faxed into the cloud can be controlled by a number of third-party devices: smartphones, tablets, and PCs.
As if convenience isn't enough of an advantage, here are 5 key benefits to cloud digital copier storage:
Ease in scalability. New copier services and upgrades will be transferred seamlessly through the cloud via the Internet or a private network.
Quick access. Multiple offices or facilities can collaborate by uploading documents, PowerPoint presentations, notes, and curriculums to the cloud to print from any location.
Error-proof track-backs. If you make a change to a document and want to print an earlier version, previous revisions will be saved to the cloud.
Eco-friendly storage. Unnecessary photocopying can be reduced when primary copies are saved and edited in the cloud; printing and copying will only be done when necessary to cut down on paper waste.
Improved security. Cloud-based storage services will automatically encrypt and monitor sensitive photocopier data.
Besides the inarguable convenience factor, most businesses can't overlook the security advantages of cloud-based photocopier storage. With digital copier hard drives prone to identity theft, cloud-based storage may be key to safeguard sensitive information, especially when it comes to a business's customer data. The FTC has strongly recommended that used digital copier hard drives are wiped clean for the purpose of privacy protection. To prevent this kind of breach, copier cloud storage can be used to protect employee files, business documents, and customer payment information in a secure third-party location.
Compare Prices & Lease Rates on Office Copiers »