Find a Digital Copier Solution for Your Office
According to major office supply retailer Staples, digital copier solutions in the workplace have led a revolution when it comes to improving overall office productivity. Yes, "digital" is often synonymous with innovative technology and has provided new features to ramp up the average copy machine as we know it.
As with any new technology, when digital copiers first hit the market several years ago, they were up to 50% more expensive than traditional copier models. For many businesses, this sky-high price was simply unfeasible, especially on a limited budget.
But the good news is that today, the market has leveled considerably. Digital copiers are just as affordable as conventional copiers with a number of new and improved features to boot.
Types of office digital copiers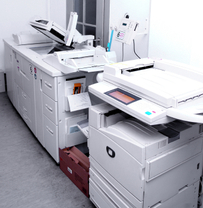 A digital copier for office use will function with either laser or inkjet technology. Many offices prefer the use of inkjet digital copiers since they will produce crisp, color copies, while a typical laser copier does not have that capability.
Of course, there is always an exception to the rule. Digital color laser copiers have been introduced to the market to provide color copies with laser printing technology, although they cost significantly more than both inkjet and laser digital copiers.
Most businesses that need to print small volumes in color copies will purchase an inkjet digital copier; businesses with large volume copy needs in black and white may choose a laser digital copier instead.
How advanced digital copier features can benefit the workplace
Digital copiers have increased in popularity because they can handle several jobs at once compared to traditional copiers. In-demand features for an office digital copier include:
Network connectivity. A digital copier can connect directly to an office computer network for better control and function.
Automatic document feeder. Otherwise known as ADF, an automatic document feeder will enable a business to copy multiple pages of a document without having to manually lift the cover to transfer each sheet that is copied. The ADF feature will automatically pull up to 50 pages into the feeder to copy a large job; for double-sided original copies, the recirculating automatic document feeder feature can be used.
Scanner. Any documents that need to be filed electronically can be scanned directly into a digital copier to save to a computer hard drive; document hard copies can then be destroyed or filed appropriately.
Fax. A user-friendly digital copier can also function as a dedicated fax machine, all-in-one. This option is much more affordable than purchasing a separate fax machine for business use.
Finishing options. Businesses that need to make multiple copies of multiple sets can utilize digital copier finishing options to sort, collate, and staple numerous handbooks and reports. Some machines may also include additional finishing options like three hole punching, saddle stitching, and booklet making.
Thanks to the many advanced features listed above, a digital copier in an office setting can improve functionality and productivity in one fell swoop. Offices that upgrade to digital copiers rely on the technology for enhanced communication to ensure that a business runs smoothly day-to-day, without increasing operating costs.
Compare Prices & Lease Rates on Office Copiers »