Canon vs. Ricoh: A Color Photocopier Comparison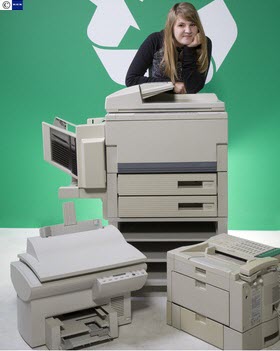 A color photocopier may make sense for some businesses, but not all. Deciding which brand of copier to choose can be daunting, with almost every major company offering a color photocopier. To make it easier for your business to answer these questions, we've compared two of the top brands of color photocopiers: Canon and Ricoh.
It wasn't too long ago that only large organizations with plenty of money to invest could benefit from the versatility of a color photocopier. But now, with entry level machines that are ideal for smaller businesses, full color reproduction is more affordable than ever. Two of the more popular copier companies in the multi-billion dollar color photocopier market are Canon and Ricoh.
Canon color copiers
Canon color photocopiers have long been one of the most trusted brands in the niche market of color copiers. Canon ImageRUNNER copiers provide cost-effective efficiency and performance to help businesses maximize their productivity.
The small but efficient Canon ImageRUNNER C1030 provides great quality color copies at up to 22 pages per minute. This might be the ideal color photocopier for a small to medium-sized business. The price of this color photocopier is around $2,500.
For larger businesses or businesses that often rely on color reproduction, the Canon ImageRUNNER Advance C7065 can significantly increase your color output to 60 pages per minute. This is a larger multifunction photocopier that costs upwards of $30,000. You can compare Canon ImageRUNNER models further in our Canon copiers div.
Ricoh color copiers
Ricoh photocopiers compete hardest with Canon in the color copier market. Ricoh produces over 20 different multifunction color copiers.
For small to medium-sized businesses who are looking for a color photocopier that will add a touch of professionalism to their everyday documents, the Ricoh Aficio MP C2030 is a compact and affordable color photocopier that can deliver up to 20 color pages per minute. This copy machine costs $5,800.
For larger businesses, or those that have a much bigger workload, the award-winning Aficio MP C5000 is a larger color photocopier with the performance to match. The C5000 prints up to 50 pages per minute in outstanding color or super sharp black and white. It has an onboard document server that makes it even easier to manage workloads. The price of this Ricoh machine is about $10,000.
So which is better, Canon or Ricoh?
With manufacturers like Ricoh and Canon offering a range of reliable and efficient copiers, it can be difficult to choose between them. If you need the highest quality color reproduction, a lot of customer reviews point to higher-output Canon color photocopiers.
However, if you're more concerned about your budget, other reviews point to entry level and mid range models from Ricoh as the copiers that offer the better value for money, as well as excellent copying performance.
Compare Prices & Lease Rates on Office Copiers »