The Best and Worst Copier Companies to Lease From
When leasing a copier, the experience you have – both in terms of monetary cost and the stress of downtime and repairs - really depends on the dealer you select to service your machine. Among the four major copier companies,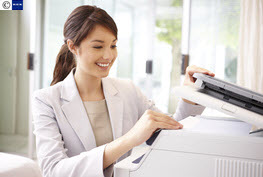 Canon, Xerox, Sharp and Ricoh, some reportedly excel at this crucial component of post-sale support... and others fail miserably.
Below you'll find data on each, compiled from user reviews posted around the web. It should be noted that these reviews are sometimes based on the experiences of local providers and therefore may not necessarily represent the service provided in your area. Nevertheless, it quickly becomes apparent who provides quality post-sale support and who doesn't.
Here's how they compared
Canon
Canon's service reviews are based largely on the popularity (and perceived fairness) of their lease agreements. For example, Canon reportedly offers a service agreement without a minimum number of prints, one of the only vendors to do so.
In addition, their cost per print is lower than comparable vendors, and their response time to customer service calls was listed as within four hours; a notable offering especially in comparison to some of the response times of other providers discussed below. However, a few negative comments related to the process addressed an inability to cancel the lease, despite the fact that the machinery was said to consistently produce inferior prints.
Xerox
Though they've been a name brand for decades, providing a diverse range of advanced copier technology, Xerox seems to suffer from a substantial lack of customer service. A noticeable number of complaints – 75 posted to a single message board in one instance – blasted the poor quality of Xerox's customer service. As a whole, they cited a general unresponsiveness to problems and complaints, difficulties with service agreements, and other gripes that led users to describe their post-sale service as "horrible," "terrible," "absolutely the worst," and even "rude."
Sharp
Possibly due to the rapidly changing nature of technology, poor service seems to be an all-too-common denominator within copier support services. A review in San Francisco cited Sharp's support for office products as "terrible", claiming there was no service center in the San Francisco Bay area after the local dealer stopped servicing Sharp machines nearly two years before. Despite that fact, Sharp reportedly still referred customers to the outdated service provider. In addition, they were said to not offer email support and had incomplete information related to parts and sales posted to their website.
Ricoh
Ricoh scored high marks for the quality of their machines, especially when compared to Xerox, Canon and Minolta, but at the same time has been taking a big hit in online reviews when those products have problems. Reviews reported multiple visits from Ricoh techs to address streaking and banding problems without results. Once these techs had exhausted their list of solutions, there were reportedly long delays in response to "multiple" follow-up service calls, five weeks in one particular instance, leading to extensive downtime and costly delays.
When you compare business copier prices, also compare the service agreement that each licensed dealer has to offer.
Compare Prices & Lease Rates on Office Copiers »