Top 5 Copier Models That Are Hot Right Now
Today, most businesses choose either black and white or color digital copiers as an upgrade from older analog models that copy with the press of a button.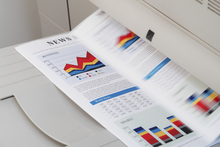 Otherwise known as multifunction copiers, digital copiers are sleek, streamlined, and efficient; they provide higher copying functionality with less noise compared to an analog copier since they work with fewer mechanical parts.
Even better, as the digital copying technology has become more mainstream in the market, digital and analog copiers are now remarkably similar in price. Meaning, if your business is ready to upgrade to a more efficient digital technology to meet your copying needs, it may be a lateral financial move to purchase a digital instead of an analog copy machine.
What is the best digital copier to improve office productivity?
To help you make the right purchase decision for your office size and needs, consider the following top-rated digital copier models with advanced features and functionality:
To choose the best copier to meet your office's needs, it pays to focus on functionality first of all. Although price is certainly a factor when purchasing a new digital copier, it's important to find the top features that your business needs for daily work tasks in order to make a smart investment in office equipment that will stand the test of time.
Compare Prices & Lease Rates on Office Copiers »