Multifunction Copiers Make Your Day a Bit Easier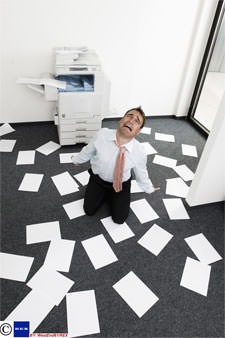 You've probably heard the term before: a multifunction copier is often referred to as an all-in-one machine. Just as the name suggests, a multifunction copier has the capability to perform more than one task, such as print, copy, scan, or fax.
A multifunction printer (MFP) may be advertised as 4-in-1 or 3-in-1:
A 4-in-1 will print, copy, scan, and fax.
A 3-in-1 will print, copy, and scan without the option to fax.
3 buying guidelines for multifunction copiers
The greatest advantage to multiple machines combined in one is convenience, hands down. But before you make the upgrade, there are several multifunction considerations to keep in mind:
Office size matters. In most cases, an all-in-one device will provide convenience and functionality to support a small to midsize office. A larger corporate office may experience a slump in speed and quality with a mid-volume MFP. Consider your baseline monthly copy volume and determine whether an all-in-one can keep up with demand before you buy.
Convenience could cost you. Most businesses appreciate an all-in-one to save a buck by purchasing one device instead of three separate machines for printing, scanning, and copying. However, if your copier is still chugging along, it may be wiser to buy a separate printer instead of upgrading to an MFP. Count the cost of investment before scrapping existing office equipment; new businesses can benefit from buying an all-in-one from the start instead of purchasing individual machines.
Calculate the total cost of ownership. A multifunction device may seem like an attractive investment at face value, but to get the full picture, you must calculate the total cost of ownership, or TCO. TCO accounts for monthly copy supply cost; some all-in-ones may have a higher TCO than single-function equipment. Crunch the numbers to avoid any unpleasant surprises when ordering monthly copy supplies.
For many small to midsize businesses, a multifunction device makes the most sense. When you take into account the buying guidelines above, you can weigh cost versus value before making an investment.
The best multifunction brands for your business
If you're ready to hop on the multifunction bandwagon, it's time to compare the top all-in-one brands on the market:
Toshiba: Toshiba multifunction photocopiers are budget-friendly and quick to the draw: Devices are copy-ready in as little as 25 seconds. The Toshiba e-STUDIO202S starts at $1200, with an upgrade to the e-STUDIO203 for faxing capabilities.
Ricoh: Ricoh offers more than 30 different multifunction black-and-white copiers, ranging from $1000 to over $20,000. On the low end, you'll find an all-in-one that offers 21 ppm with a quick warm-up time; on the high end, the heavy-duty Ricoh Aficio MP 9001 prints on a variety of paper types with crisp scanning at 1200 dpi.
Canon: Multifunction Canon ImageRUNNERs are designed for small to large businesses; the entry-level ImageRUNNER 1025 offers 25 ppm for a small office, up to 75 ppm with the large office ImageRUNNER Advance 8105. Prices range from $575 to over $50,000.
While multifunction photocopiers aren't for every business, they can provide advantages to reduce cable clutter, conserve space, and cut costs in one single investment. Shop for an all-in-one based on monthly copy volume to narrow down your search and match your business's copy output.
Compare Prices & Lease Rates on Office Copiers »