Wireless Copiers: Office-Friendly Features and Average Prices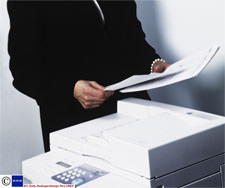 Today, most all-in-one photocopiers are advertised with wireless capabilities – designed for small to large business use, depending on copy volume. A wireless all-in-one photocopier is likely to offer four different functions: printing, copying, scanning, and faxing.
Multifunction wireless copiers come with built-in Wi-Fi. A wireless copier can be hardwired for direct printing from a PC or operate with wireless commands for e-printing. Besides convenience, most businesses prefer wireless copier networking to cut down on cable clutter.
Common uses for wireless copiers in the office
Businesses can get a lot of mileage out of a wireless copier since it can connect directly to an office network. Instead of hardwiring a photocopier to an individual computer, a copier can be connected to a wireless network to print from multiple computers.
A wireless photocopier can be used to:
Print remotely from another cubicle or desk.
Print wirelessly from multiple computers within the same network.
Set up a copier in a more convenient location, i.e. front desk, breakroom, or lobby.
Support mobile printing for documents, photos, contracts, calendars, etc.
Charge MP3 players and cell phones via a USB port.
The best wireless copier features for a business
Wireless printing, scanning, copying, and faxing is certainly the way of the future. If you're considering a wireless copier upgrade for your business, don't overlook these office-friendly features:
All-in-one: Most wireless copiers are listed as multifunction devices with the ability to print, fax, copy, and scan in one machine. Make sure a wireless photocopier is truly all-in-one before you buy if your office requires all multifunctional features.
Automatic two-sided printing: Most multifunction wireless machines will offer built-in automatic two-sided copying, printing, and scanning to not only save time but cut down on paper waste by up to 50%. Best of all, two-sided printing can be controlled wirelessly and automatically, without having to get up from your desk.
Auto editing: The majority of wireless photocopiers on the market come fully equipped with automatic editing features to simplify printing, copying, and scanning: auto document fix, auto scan, network scan, auto duplex scan, auto duplex copy, image repeat, borderless printing, and more.
What to remember before you buy: Office size matters
Before you purchase a wireless photocopier, it helps to understand the bigger picture in wireless equipment connection. When a copier is connected to a wireless network in an office, the quantity of users will not be limited. However, in order to print or copy wirelessly, a PC or mobile user must fall within a Wi-Fi radius.
For some offices, this wireless zone will determine where a wireless copier can be placed. Employee PCs may need to be situated a certain distance from a wireless photocopier before control commands can be received. A large office with open space may require more than one wireless photocopier to support employee volume.
Average wireless photocopier prices
Wireless photocopier prices have dropped significantly to compete with other wired copiers on the market. Prices may start as low as $79 for a refurbished all-in-one wireless printer for home or small office use, up to $299 for a midsize all-in-one laser printer, up to $6349 for a wireless-ready color multifunction printer for a large office.
Compare Prices & Lease Rates on Office Copiers »