What is the Best Small Business Copy Machine?
A small business copy machine can be customized with plenty of bells and whistles to help your office with daily functions,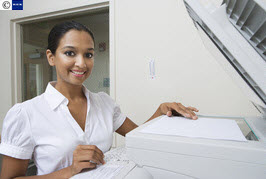 or you can simply opt for a multifunction machine that does the basics. The choice is yours; find out which copy machine is right for your business needs.
All-in-one small business copy machines
Electronic superstores and office supply companies stock a wide variety of basic small business copy machines, known as "all in one" copiers, which fit easily into just about any nook or cranny. Priced at a few hundred dollars, these devices have some fairly impressive features, including the ability to read from secure data (SD) cards. These are, however, intended for home use and may not withstand the demands of a busy office.
Multifunction copy machines
Designed with multiple users in mind, the business grade small business copy machine comes in a variety of models. Popular in the office is Canon and Ricoh, but Konica Minolta, Sharp, Samsung, and Toshiba are also major dealers that offer the best small business copy machines.
Low-level copiers, which can handle up to 1,000 duplications per month. Approximately the size of a small refrigerator, this kind of copier sits comfortably in a common area, such as a secretary's desk or a long filing cabinet. A low-level copier comes should cost no more than $1,000. You can do a quick photocopier price compare on several copiers using this site.
Mid-range models are the reliable workhorse of the office, churning out as many as 25,000 copies in a single month. At this level, you also can expect additional features such as two-sided copies and memory to store documents and fax jobs. Expect to pay as much as $5,000 for a machine of this caliber.
Large-scale copiers are for the largest companies or businesses that rely heavily on copying, printing, and faxing. They can typically handle 200,000 copies per month without a problem. These models are ideal for hooking up to a local area network (LAN), allowing multiple employees in various departments to send documents to it from their workstations. High-performance copiers can cost $25,000 or higher.
Paper and toner cartridges
You can't make good copies without paper and toner which is the lifeblood of duplication. If your employees need to print legal-sized documents (8.5"x14"), make sure that the copier will handle this type of paper. Toner cartridges also have an unfortunate habit of drying up at the wrong time, so make sure the cost of color cartridges won't put you in the red.
Getting a good warranty
Arguably, the copying machine gets more use and abuse than just about any other piece of office equipment. This means that it also can malfunction or break down. When purchasing a copier, make sure to discuss the warranty options with the sales representative and what kind of service you can expect after the sale.
If you're curious about the cost of a small business copy machine, use our price comparison tool to get small business copy machine price quotes and lease rates.
Compare Prices & Lease Rates on Office Copiers »