Average Photocopier Prices You Can Expect to Pay
Seventy years ago, when Chester F. Carlson first developed the dry copying process called "xerography," he may not have fully realized the potential of his invention. In the decades that followed, the plain paper copier has become an essential part of the modern office. This equipment has grown so powerful and multifunctional, in fact, that it's become more important than ever to photocopier price compare before buying one.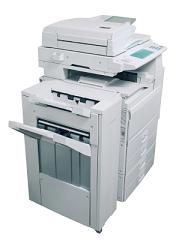 Which photocopier should your business choose?
Small business copy machine: Compact, but even more powerful than the home model, a small business copy machine can range in price from $500 to $1,500. This machine can handle letter and legal paper plus envelopes and labels. It's also possible to hook this kind of copier to the office computer network.
Multifunction copier: Depending on the print speed and functionality, this copier can cost as little as a few hundred dollars or come with a price tag of several thousand dollars. It's also possible to scan in a document and send it to an external fax machine.
Commercial copier: The largest of the office copiers, a commercial copier can crank out over 200,000 documents a month without breathing hard. This equipment requires an investment of $10,000 to $40,000, though, and requires plenty of floor space. Comparing photocopier prices and lease rates
It pays to compare photocopier prices and lease rates so that you can ensure your office is getting the best possible deal. Instead of calling around and telling multiple salespeople about your office's needs, you can tell us what you need and get multiple copier lease rates or photocopier prices to compare (there's an option to choose either leasing or purchasing).
These companies offer Canon, Ricoh, Sharp, Konica Minolta, Toshiba, Lanier, and many other brands of copiers. Dealers handle different brands and styles of copy machines, offering incentives and discounts on certain models. A licensed, authorized dealer also can provide service after the sale of a copy machine, but it's always important to discuss the terms of the warranty before signing on the bottom line.
What to compare besides price
Like a new automobile, photocopier prices fluctuate based on the bells, whistles and other accessories you want to add. They can also differ between brands. Some of the following features may increase your upfront equipment costs, but could actually save you money in the long run:
Multiple paper drawers, which let you load the copier with letter or legal paper, plain envelopes, labels or photo-quality paper.
Clerical functions, such as hole-punching, collating and stapling. Instead of having a clerk or salesperson spend valuable time assembling a presentation, the copier can do all the work.
Color copy capability, which lets you give clients some eye-popping presentations.
Compare Prices & Lease Rates on Office Copiers »