Ricoh Photocopiers Review: What Are the Best Ricoh Aficio Copiers?
Ricoh photocopiers have been a staple in the American office for nearly 50 years, and in that time the company has developed a reputation for providing the latest technology and some of the most innovative copier solutions. Price is also a major factor in the popularity of Ricoh copy machines – for every Canon copier, there is often a comparable Ricoh model that costs far less.
Which Ricoh Aficio copier is best for your business?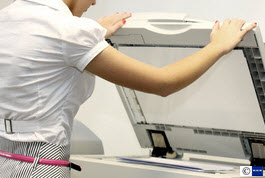 Ricoh's Aficio range of multifunction copiers includes nearly 30 different black and white copiers, with prices and features to suit most budgets. Ricoh photocopiers prices are generally competitive, so whatever your business needs, a Ricoh Aficio copier should prove to be a good investment.
Aficio MP 2000 - The Ricoh Adifio MP 2000 is ideal for most small to medium sized offices, thanks to its compact size and impressive performance. With the capability to fax as well as scan, copy and print, it can be networked with the rest of your office to provide a complete print management solution. With a printing speed of 21 pages per minute and a fast warm up time, this is an ideal entry-level model thanks to its sub $1,000 price tag.
Aficio MP 4001 - Compared to the Ricoh Aficio MP 2000, the Aficio MP 4001 is bigger and better in most ways, making it a good choice for bigger offices or businesses that need that extra performance. Faster to warm up and capable of printing up to 40 pages per minute, this Ricoh photocopiers model also has a range of finishing features that you would expect to find in a multifunction copier that costs around $12,000.
Aficio MP 9001 - The Ricoh Aficio MP 9001 is Ricoh's largest and most sophisticated black and white multifunction copier. At home in large businesses that need a centralized document management function, or production companies servicing a variety of client requirements, this model is capable of printing on most paper types and can scan documents at 1200 dpi. Costing over $20,000 it represents a significant investment, but delivering up to 90 pages a minute and offering a range of finishing options, this could be perfect choice for organizations where performance and quality are key.
As well as the choice offered by monochrome Ricoh photocopiers, there's also a large selection of color copiers for those who want to combine great performance with the versatility of color reproduction.
How to get the best price
Whether you're interested in buying or leasing Ricoh photocopiers, you should start out by comparing the different models on consumer reviews sites. It's important to get a feel for what others are saying about the equipment and the level of service offered. Then with your ideal page printing speed and price or monthly lease in mind, start comparing prices and lease rates on Ricoh copiers. It's the best way to get a great deal for your business.
Compare Prices & Lease Rates on Office Copiers »