The 5 Best Office Copier Choices
When it comes to choosing the best office copier, the safe bet is almost always an award-winning product. Evaluated for a wide range of considerations,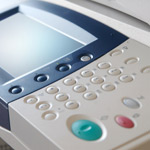 ranging from affordability and ROI to performance and durability, these factors can contribute to a reduction in the overall cost of ownership by pairing your needs with the machine that addresses them the best.
In recent months, four major brands and five machines have been recognized for excellence. Each offers some unique functionalities, summarized below, that can help you determine which is best for your organization.
Canon imageRUNNER C1030
Canon's been in the game for a long time. And with the imageRUNNER C1030, it's easy to see why. Recognized for its compact size, it's a solid choice for small businesses or offices with limited space for equipment. In addition, the usability of its interface has also received substantial recognition. It includes a 3.5-inch color LCD display as well as a control panel with an innovative scroll wheel for quick navigation and the simplified entering of numbers and characters. Plus, it's adjustable for optimal viewing at a range of angles.
Canon imageRUNNER ADVANCE C2030
Taking a step up, the Canon imageRUNNER ADVANCE C2030 has been designed for multitasking performance. Using two processors, it provides the capability for networking, simplifying workflow and distribution while promoting enhanced collaboration throughout your group or company as a whole. Plus, this feature also helps to eliminate the costly printing of documents when not absolutely necessary. In addition, the C2030 has been cited for its ability to quickly convert paper documents to digital files with the 50-sheet capacity Duplexing Automatic Document feeder at speeds of up to 44 ipm, thereby enabling the quick and practically effortless conversion from hardcopy to digital.
Ricoh Aficio MP C2030
Functioning as an entry-level machine but still boasting strong multifunctionality that includes scanning and faxing, the Ricoh Aficio MP C2030 has a somewhat less elaborate user interface than other models but also boasts a speedy warm-up time of 25 seconds, with the first page delivered in color about nine seconds after that. Geared toward offices that want a multifunctional peripheral and color printing without the costly expense of a larger machine, this model has received awards for its overall affordability while maintaining strong output.
Xerox WorkCentre 7545
Praised for its superior paper handling, the Xerox WorkCentre 7545 produces first-copy-out times of 6.6 seconds for black and white and 7.8 seconds for color. It also comes with a document feeder that can hold up to 110 sheets, greatly simplifying the scanning or duplication of large contracts or similar documents. Designed for a wide range of businesses, this model and its slightly bulkier cousin (the WorkCentre 7556) are highly adaptable to the specific demands of almost any office. Cited for the strength of their standard components like document feeder and output trays, they can also be upgraded to meet the needs of larger offices through add-on components that have been cited as "reasonably priced."
Konica Minolta Bizhub C360
Achieving recognition for reliability, image quality, ease of use and productivity, the Konica Minolta Bizhub C360 reportedly provides extensive value and trouble-free performance. In fact, it's so trouble-free that in one test it was credited as performing without "a single malfunction" occurring. In addition, the C360 includes notable features like hard drive overwrite (which is standard on this model rather than optional) and advanced security measures such as biometric access control that recognizes vein patterns in a user's fingertips to enable quick, hassle-free authentication while securing the machine against unauthorized use.
Compare Prices & Lease Rates on Office Copiers »