Office Digital Copier Security Features
Digital copier security is essential to making internal documents safe
Why are digital copier security features important, and how can they benefit your business?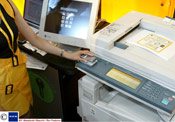 According to a report from CBS News, a used digital copy machine is likely to hold a secret. Since 2002, digital copiers are built with a hard drive, similar to what is found in a PC, which will automatically store an image of every scanned, emailed, or copied document.
For even the smallest business, this data tracking could turn an average piece of office machinery into a source of sensitive information. When a used machine is sold or accessed by a third party, it could transfer critical data like bank records, birth certificates, and employee Social Security numbers.
For this reason, it's more important than ever before to understand exactly what security protection your digital copier provides to keep your business's data safe.
Must-have digital copier security features for your office
Before you invest your hard-earned money in a new digital copier, check for essential security features to protect office privacy, like:
Pin pad access. Copiers used in a larger corporate office may be supported by software that will electronically track the use of a photocopier; this tracking software can also be tied to an automatic billing system. Each employee that uses a copier will be provided with their own personal PIN to limit or regulate copier access.
Secure hard drive. To ensure that a copier hard drive meets new security standards, it should have an industry certification like ISO 15408 Level 3 Certification or IEEE-2600-2008. If security is a further concern, a manufacturer may provide a copier data security kit to address the issues.
Cloud storage. Xerox was one of the first photocopier manufacturers to offer the added feature of a cloud storage service that connects directly to multifunctional digital copiers. Documents that are scanned or faxed can be uploaded to the cloud for quick downloading or editing by phone or computer.
Network security. A copier can be further protected by an intelligent network interface that will help to limit user access to certain IP/Mac network devices through service and protocol ports. Network security precautions can also be taken to disable unneeded protocol support to prevent a security breach.
Understanding a copier security agreement
When purchasing a new office copier, it's critical to include the new equipment in companywide security policies so that a copier can be monitored by IT staff. When buying or leasing a copier, encryption is key; encrypted digital copiers will encode data that is stored on a hard drive to prevent it from being retrieved by a third party.
When your business is finished using a copier and wants to sell or trade in the model, it's important to check with a manufacturer or dealer directly for further details in the security agreement. Some companies may remove the hard drive from a copier and return it to your business so that you can destroy it yourself. Other dealers may choose to overwrite a hard drive before selling a used model.
Compare Prices & Lease Rates on Office Copiers »