How to Understand Copy Machine Ratings
Copy machine ratings can decide the company you'll do business with
The basic foundation of buying office equipment at the best value is the art of comparison-shopping. As you dive right in and begin to compare one copier brand to another, you may come upon a slew of copy machine ratings that provide greater detail in machine performance, speed, price, and features.
Before you make a final buy, it helps to break down copier ratings step-by-step to better understand the value of the equipment.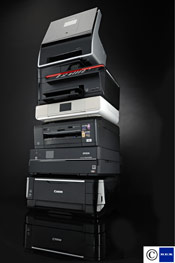 What copy machine ratings mean for your business
In the average copy machine rating, you're likely to find an assessment of the machinery in the following categories:
Speed/Volume: If your business plans to copy documents at a high volume, you'll need a faster machine to live up to the task. In copy machine reviews, machine speed is measured as CPM, copies per minute, or PPM, pages per minute. Small businesses may do well with a 15 CPM machine; large corporations may seek up to a 100 CPM capacity

Copier volume will measure the amount of copies that a machine can produce on a monthly basis. To choose the right machine for your business, it's important to calculate how many pages you copy on average each month. This magic number may also be referred to as "peak copy volume" and will be used as criteria when buying or leasing a copy machine.

Features: Copy machine features can range greatly from one manufacturer to the next and may include standards like an automatic document feeder, dots per inch (DPI), duty cycle, electronic document management, finishing options, large capacity tray, and much more.

More advanced features from brands like Xerox may include network scanning via a PC or Mac, double-sided scanning, and scanning to email. Newer digital copiers may be fully equipped with a wireless module to allow printing without the need for cables. When reading ratings based on features, take both pros and cons into account before making a final decision.

Price: Office copiers can range greatly in price from as little as $150 up to $40,000. Most copier ratings will reflect both speed and features when it comes to the final price tag. For example, a faster copier with speeds at up to 35 CPM could cost closer to $10,000. A high-volume copier at up to 60 PPM with advanced color features could cost up to $40,000.
As you review copier prices, keep in mind that a color copier will cost more than a black and white machine. Many hybrid multifunction copiers will print black and white documents by default with optional color settings, which can help save money on the total expense of machinery.
How to weigh in customer reviews
Assessing customer reviews for a specific copier model is a delicate matter indeed. While it's possible that a customer may have had a negative experience with an office copier, their review must be compared against other positive and negative customer ratings.
You can use customer ratings to reinforce your buying decision, although customer reviews shouldn't make or break your final purchase selection. Customer reviews are helpful and insightful but can be biased; read multiple customer ratings before striking a copier off your list altogether.
Compare Prices & Lease Rates on Office Copiers »