Are Photocopier Rentals Worth It?
Should your business rent, lease, or buy a copier?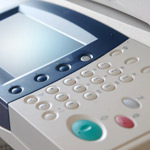 The age-old question of whether to own or lease depends a lot on usage. Luckily, it's pretty straightforward if you have a relatively accurate estimate of your monthly print volume.
With that in mind, here are the steps to take when trying to decide if photocopier rentals are for you and how you can save money by selecting a machine that integrates the latest technology.
Photocopier rentals in three easy steps
Step 1 – Know your monthly volume requirements and budget. The end cost of the photocopier is largely determined by how many pages you print per month, with allowances that range from 2,000 pages and less up to 100,000 or more. The cost can average as little as 1.4 cents per page for black and white, with color running an average of 8 to 13 cents per page.
Step 2 – Shop for a good contract. This is where it pays to shop around and get a number of competitive quotes. Service contracts provide the basics of preventative maintenance but also a valet service that routinely restocks the paper and other consumables, up to and including toner cartridges (thereby negating its yield). The key is to ask for an "all-inclusive deal." Packages vary, reportedly ranging in some cases from $140 to $235 per month, a percentage of which is reportedly tax deductible according to some sources (but it's always best to check with your accountant first). When considering a service agreement, be sure to take into account any projected growth expected over the life of the contract as this could impact your output and lead to costly overage fees.
Step 3 – Negotiate. The market is highly competitive so don't ever be afraid to ask for a better deal or incentive. This will also tip you off to the vendor's commitment to customer service. If they're not willing to make you happy before you buy, imagine what they'll be like when they have you under contract.
Tech add-ons that can save big with photocopier rentals
The extra bells and whistles typically add a hefty price tag on the purchase price of a machine. But when you rent, you can enjoy the cost- and time-saving benefits these machines provide without having to cut out the annual holiday party just to afford it.

One of the biggest developments in recent years is the all-in-one machine that typically includes a scanner and networking capability, syncing with all of the machines in your office. Through this one machine, any employee can scan, fax and copy without printing. The documents are saved as PDFs and then sent via company intranet to anyone internally or even emailed to an external recipient straight from the copier. This functionality immediately saves on the cost of distribution and postage. Plus, with most contracts based on prints and not scans, this can save you big over the life of your service agreement

. Compare Prices & Lease Rates on Office Copiers »