When Copy Machine Rental Is the Best Choice
For some businesses, copy machine rental is smarter and more economical than buying a copier outright. Certain industries and events make renting copy machines the best option to meet changing document-production needs. Here are some particular situations when renting is the better idea:
Special Events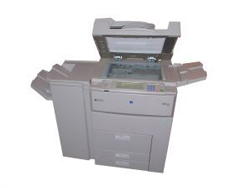 If your business doesn't typically use a large or feature-rich copy machine in the office, but you need one for a special event, it makes more sense to rent. Successful conventions, trade shows, and conferences can depend on innumerable fliers and pamphlets that need to be passed out to participants. Political and advertising campaigns can require limitless documents to get information out to the public, too. An ambitious marketing strategy, for example, may benefit from the hefty production of documents that rented machines can specialize in.
Construction and Engineering Jobs
The construction and engineering industries often require a lot of paperwork. For these projects, countless individuals need to be kept apprised of new developments and proceedings. Changes, modifications and updates to construction projects are a constant, and you need paperwork to document and share these events. If you don't have the ability to keep everybody informed, the results can be disastrous. When a new project commences, copy machine rental can help facilitate record-keeping and project phases. Different copiers can be chosen to correspond with a project's type, as well. A rented copier can even come in handy during sales or bidding seasons.
Non-local Projects
If your business or organization takes on projects in different cities, you may want to rent copiers in these locations to make moving into your temporary office easier. Renting office equipment can be quicker than packing up all of your devices and shipping them to your projects' locations. You may also be able to save on high shipping costs, and spare your equipment from the damage it might sustain while in transit. Rented equipment can be delivered to your temporary office relatively quickly — sometimes within the same day of ordering it.
Office Emergencies
Almost every business' office equipment will require maintenance within the course of its use. If your copier suddenly breaks down, you may find yourself needing a replacement fast. If you can't afford to buy a new machine, you can rent a copier until you're able to purchase your own. Legal emergencies, like sudden litigation or audits, can also be reasons to invest in copy machine rental.
Benefits of Renting
Many establishments rent copiers for weekly or monthly terms. If you'd prefer to bypass the hassle of buying a new copier, you can rent one indefinitely. When you choose this option, you can be sure that you'll never be left without a copier again, as the rental business can provide technical support, regular maintenance, and even supplies. You may enjoy certain tax benefits from renting as opposed to owning. You may even be eligible for equipment upgrades so you'll always have the best machines available.
Compare Prices & Lease Rates on Office Copiers »