Copier Solutions for the Budget-Conscious Startup
Startup businesses face a number of challenges, and the cost of office equipment, such as copiers, can be a big one. Fortunately, there are ways that startups can enjoy the perks of modern copier solutions while remaining within budget.
Assess Your Needs
Many times, simply identifying what you need from a copier can help narrow down your choices and cut potential additional costs. For example, if your business just needs basic black-and-white documents, you probably won't want a copier that is capable of reproducing dozens of colors. Similarly, if you only need a basic copier, you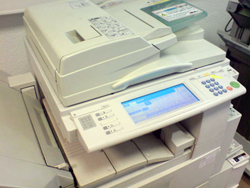 likely won't require a machine that can fax and scan, too. If you know exactly what functions your business will need, you can save yourself hundreds of dollars, or even thousands. In contrast, if your business does a good amount of printing, scanning, and faxing, finding a copier that can handle all of these functions can be less expensive than investing in separate devices.
Refurbished Copiers
Investing in a refurbished copier can be a resourceful way to obtain a modern machine at a fraction of its retail price. These copiers can look and function exactly like new copiers. Some get the label only because their boxes have been opened, others may have been on display on showroom floors, and yet others may have been returned to manufacturers by previous owners so that defects could be fixed. When shopping for refurbished copier solutions, it's best to buy from an established company and to search for products that offer long warranties.
Used Copiers
Buying a used copier is another way to meet your copying needs without breaking your budget. You'll have to vet potential used copiers to make sure that they're not too old to work with your existing equipment. It's generally advised that businesses replace their copiers after four years, and warranties typically run out after five years, so choosing a used copier that's only a year or two old can be a good idea. Also recognize that older copiers will likely have been in use longer than rented ones, and that you may have to pay for repairs on your own.
Copier Rentals
Yet another inexpensive option for a startup business is copier rental. Renting a machine can provide significant advantages over buying one. When you rent a copier, its owner can be responsible for its maintenance and even supply stock such as ink. To make sure that you're getting the best deal, only rent copiers with features and functions that you need. Also be wary of contractual terms like copy minimums and overages. You can also decide how long you want to rent the copier, whether for days or months, which can be beneficial if you are saving up to buy one of your own.
Compare Prices & Lease Rates on Office Copiers »