The Features of Office Copiers that Every Law Firm, Nonprofit, and School Should Consider
To choose the best copier for your organization, you need to assess what features your offices need the most. Needs for office copier machines vary between professions — a law office, for example, will have different needs from a school or a nonprofit — which means features they require of the machines differ too.
Law Offices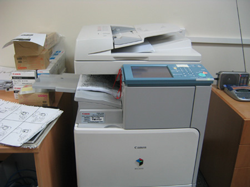 Copiers are an essential feature in law offices, as law firms typically use large amounts of paper at each stage of a case. The copier has potential to increase office productivity by organizing that paper, regardless of size of the firm.
A commonly used feature in the law office is double-sided printing. It reduces the amount of paper the firm uses with one push of a button. A simple selection of the machine's duplex option reproduces lengthy court documents onto both page sides. You use far less paper, and in turn spend less money on supplies — and it's more environmentally friendly, too.
The sorting feature is also beneficial, as legal professionals copy many sets of papers. The copier feed sets into a single tray at right angles or offsets them to sort the groups. Some copiers staple the paper sets, too.
The scan-to-email feature simplifies sending client files. The ability to email court documents to other partners or the courthouse reduces the time spent transporting documents in person or by mail.
Nonprofit Organizations
The copier scan-to-email feature is also popular with charities, service groups and other nonprofit organizations. Email is an efficient way to send a donor request or boardroom notice to many people at once.
Email is also cheaper than mailing papers to several people, which takes up both materials (stamps and paper) and employee time. Given that many nonprofits have limited budgets, cost-savings are essential.
Nonprofit offices benefit from the automatic document feeder, as well. It significantly saves time for volunteers and busy executives by making multiple copies of multi-page documents. The machine can copy a long report without requiring anyone to stand at the device and feed it one page at a time.
Schools
Teachers from grade school through college depend on office copiers for their lesson plans and student handouts. The hole-punch feature is useful as it conveniently creates copies with three-hole punches. The holes make the papers easy for students to put worksheets and reports into binders and for teachers to put into files - especially in a hectic classroom, you want to make it as easy as possible to store papers.
A copier that collates and staples multi-page documents increases teachers' efficiency. The professional no longer needs to manually assemble and staple copied papers, a time-consuming task. A copier that also folds papers works well for composing exam booklets.
Many modern office copier machines are easy to use; they do not require hours of training. Choose a copier with features that benefit specific office needs; additional factors to consider are budget, office size, and number of employees who will use the machine.
Compare Prices & Lease Rates on Office Copiers »