How to Buy the Best Corporate Copy Machines
Purchasing corporate copy machines can be very different from buying copiers designed for personal use, or even for a small business. In the corporate environment, features like size, speed, paper delivery, capacity, volume and security are deciding factors. Here is what you should look for when selecting a copier for a corporation.
Size and Speed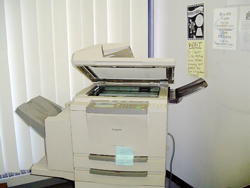 The speed of your copier can significantly influence your employees' productivity. This is especially true in corporate environments, where extensive paperwork is expected to make the rounds. When evaluating a machine, learn how many pages per minute it can copy. If the copier is multifunctional, ask whether it slows down while in other modes. Should you need a copier that can enlarge or zoom in on certain parts of a document, choose one with this function. If your corporation has a marketing department, consider buying a color copier that can easily produce promotional materials like brochures and photos.
Paper Delivery, Capacity, and Volume
Corporations generally have a lot of staff members, and many of them need access to a copier with functions like scanning, printing, and faxing. When choosing a corporate copy machine, be sure to select one with high paper capacity. Large-scale copiers can hold hundreds or even thousands of sheets of paper at once, and produce thousands of copies a month. Ask a sales representative about the average number of copies each machine can produce, and find one that matches your output. A fast paper-delivery rate can ensure that your documents are printed as quickly as jobs are submitted, too. Both high paper capacity and quick delivery rates save time and money, since your employees will not have to take time to replenish paper supplies or wait for their documents. Consider buying a copier that will print on both sides of the paper, if you're concerned with environmental impact.
Security
Security can be a major concern in the business world. Modern copiers have hard drives and memory technology that stores document information in their systems as part of their functionality. When purchasing a copier, be sure to ask about security features that will help protect sensitive information should the copier ever be stolen or otherwise compromised.
The Features Hierarchy
Unless your budget for a new copier is unlimited, you will likely be looking for corporate copy machines that can meet all of your operational needs at an attractive price. To make your decision easier, list the features of your ideal copier in the order of their importance. If you have more than one choice, evaluate the copiers with the best "extra" features. Remember that extras can be new and technologically impressive, but if you don't need them, they will only add to the total cost of your copier. On the other hand, if you anticipate producing different types of documents in the future, make sure that the copier you vet is capable of creating and handing them.
Compare Prices & Lease Rates on Office Copiers »