Copy Machine Companies Providing Office Solutions
Although a copy machine is a standard piece of office equipment, purchasing a copier is not a matter to be taken lightly. Today, most copiers sold for office use are digital in either black and white or color. Digital office copiers are often referred to as multifunction copiers since they can combine scanning, faxing, and printing technology within one compact machine.
When it comes to making any purchase decision, all brands are not created equal. It helps to start off the buying process by comparing leading digital copier manufacturers to get the most value from your investment.
Where to shop: Top digital copy machine companies on the market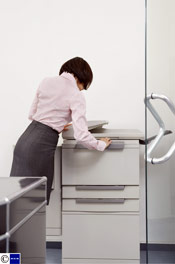 Some of the most popular digital copier brands for office use include:
Konica Minolta: Konica Minolta is a brand well-known for their business copier solutions, including color multifunction printers, black and white multifunction printers, fax machines, and digital scanners. Their popular line of award-winning office color multifunction printers offers advanced security features with models for sale by print speed, paper capacity, and monthly volume.
Canon: Canon produces business multifunction digital copiers with high-performance copying and printing for small and home office use. Canon also manufactures commercial capacity digital color copiers, black and white copiers, color copiers with print controller technology, and imagePASS controller copiers for more complex printing.
Kyocera: Kyocera offers multifunctional digital office copiers with printing, scanning, copying, and faxing capabilities, equipped with maximum uptime. For added convenience, machines may include extra finishing options to create professional reports and booklets in-office.
Ricoh: Ricoh manufactures digital copiers for small offices and large corporations alike; multifunction office copiers include scanning, faxing, copying, and printing functions, as well as electronic collation, PC control, scanning to email, and more.
Sharp: Sharp manufactures award-winning digital document systems for business use, offering customization with Sharp OSA technology that can be used to extract and access document data. New Sharp digital copiers are equipped with an updated interface that utilizes a touch screen to edit, drag, and rearrange files.
Lanier: Lanier digital office products include digital duplicators, black and white multifunction copiers, color multifunction copiers, and wide format copiers for commercial use. Popular color multifunction copiers offer advanced resolution as high as 1200 dpi with color printer speed up to 55 ppm.
Xerox: Xerox digital office equipment features multifunction digital copiers in the categories of color, black and white up to 30 ppm, and black and white over 30 ppm. Business copiers are designed for small to large jobs with various paper sizes and speeds, including advanced security features for data protection.
When choosing a digital office copier, you'll get what you pay for. While the preferred brands listed above won't steer you wrong, it pays to search for specific features that will benefit your business to improve daily productivity with the office equipment you purchase.
Compare Prices & Lease Rates on Office Copiers »